Spring Steel Wires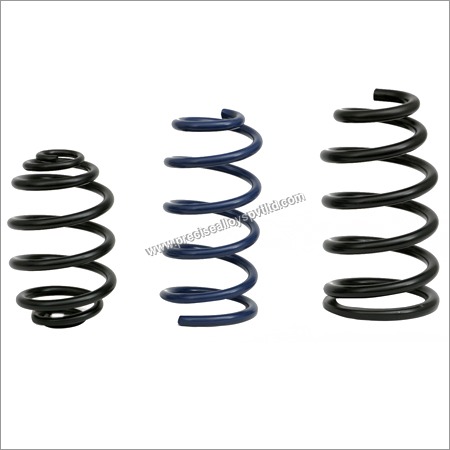 Spring Steel Wires
Price And Quantity
Kilograms/Kilograms

85.00 - 500.00 INR
Product Description
Backed by strong expertise and knowledge, we are engaged in manufacturing and supplying a wide range of Spring Steel Wires. Manufactured using best quality materials as per the international quality standards and norms, our offered wires are well accepted throughout the country. The range of wires we offer is known for its optimum quality, rugged design and durability. Available to the clients at market leading prices. The Spring Wires are rapidly used in various applications. These wires are properly checked on certain parameters by our esteemed professionals.
FAQ:
Q: What are spring steel wires?
Ans: Spring steel wires are high-strength, durable wires made from various grades of steel. They are designed to have excellent elasticity and flexibility, allowing them to return to their original shape after being stretched or compressed. These wires are commonly used in a wide range of applications, such as springs for automotive suspensions, mechanical components, furniture, industrial equipment, and more.
Q: What are the main properties of spring steel wires?
Ans: The main properties of spring steel wires include high tensile strength, good ductility, excellent elasticity, and high fatigue resistance. These properties ensure that the wires can withstand repeated loading and unloading cycles without permanent deformation.
Q: What are the different grades of spring steel wires?
Ans: Spring steel wires come in various grades to suit different applications. Common grades include high-carbon spring steel (such as AISI 1070 and 1095), alloy spring steel (such as AISI 6150 and 9260), and stainless steel (such as AISI 302 and 316). Each grade has its unique composition and properties, making them suitable for specific uses.
Q: What are the applications of spring steel wires?
Ans: Spring steel wires find applications in a wide range of industries. Some common uses include:
Automotive industry: Suspension springs, clutch springs, valve springs, etc.
Furniture: Upholstery springs, recliner springs, etc.
Industrial equipment: Conveyor belt springs, die springs, etc.
Consumer products: Trampoline springs, garage door springs, etc.
Electrical industry: Springs for switches and connectors.
Agriculture: Springs for agricultural machinery and equipment.
Q: What are the manufacturing processes for spring steel wires?
Ans: The manufacturing of spring steel wires typically involves the following steps:
Raw material selection: High-quality steel rods or wire billets are chosen based on the required properties.
Hot rolling: The steel billets are heated and passed through a series of rollers to reduce their diameter and increase length.
Drawing: The hot-rolled wire is drawn through a series of dies to reach the desired diameter and improve its surface finish.
Annealing: The drawn wire is subjected to heat treatment (annealing) to enhance its ductility and reduce internal stresses.
Coating (optional): Some spring steel wires may receive a coating or surface treatment for additional protection against corrosion or to improve specific characteristics.
Tempering: The wires are heat-treated again to achieve the desired spring properties and toughness.
Finishing: The wires are then cleaned, cut, and packaged for distribution.
Q: What factors should be considered when selecting spring steel wires for an application?
Ans: When choosing spring steel wires, several factors should be considered, such as:
Required load and deflection: The wire must be able to handle the intended load and provide the desired deflection.
Environmental conditions: Consider factors like temperature, humidity, and exposure to corrosive substances that could affect the wire's performance.
Wire diameter and tensile strength: Ensure the wire diameter and tensile strength match the application's requirements.
Fatigue resistance: For applications with repeated cycles of loading and unloading, good fatigue resistance is crucial.
Operating temperature: Some spring steels are more suitable for high-temperature environments than others.
Cost: The cost of the wire should align with the overall budget and the value it provides.
Q: Are there any special considerations for the storage of spring steel wires?
Ans: Yes, proper storage is essential to maintain the quality of spring steel wires. They should be stored in a dry and clean environment to prevent corrosion. Ideally, they should be stored on racks or shelves to avoid deformation and tangling. Additionally, the storage area should be free from exposure to chemicals or fumes that could harm the wires.
Q: Can spring steel wires be recycled?
Ans: Yes, spring steel wires are highly recyclable. At the end of their useful life, these wires can be collected, processed, and reused to manufacture various steel products. Recycling spring steel wires is an eco-friendly practice that helps conserve natural resources and reduce waste.
Q: How do I determine the right wire diameter and type for my specific application?
Ans: Selecting the appropriate wire diameter and type requires a thorough understanding of your application's requirements. It's best to consult with spring steel wire manufacturers or experienced engineers who can analyze your needs and recommend the most suitable wire diameter, grade, and type based on factors like the load, deflection, operating conditions, and environmental factors.
Trade Information
Yes

Sample costs shipping and taxes has to be paid by the buyer
As per buyer requirement

All India
ISO 9001:2008, ISO 14001:2007, OHSAS 18001:2001