HHB Wire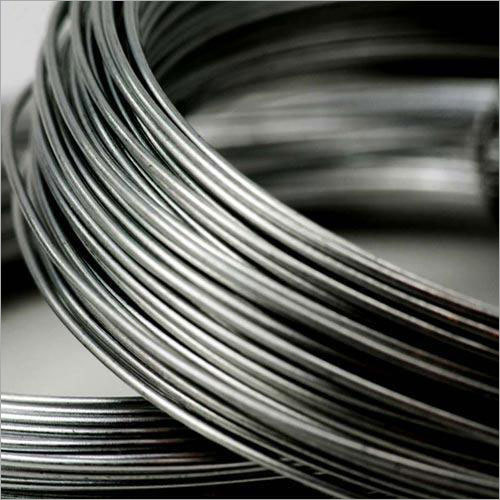 HHB Wire
Price And Quantity
Kilograms/Kilograms

35.00 - 200.00 INR
Product Specifications
Product Description
We offer a wide range of HHB Wires, which have gone through annealing, rust removing, acid washing and coiling before they come to end users. The wires are apt for the manufacturing of shaped cables, fasteners, automotive cables and handicraft items. Also, these assist in the production of making wire nails, screws, and welded wire mesh. The wires are also used in the fabrication of bucket handles as well as several others. Offered HHB (Half Hard Bright) wires are provided with extreme hardiness and strength. These wires are highly necessary for construction sector and ensure absolute strength. The main benefit of these is their thickness, which make them suitable for both industrial as well as domestic applications.
Offered mild steel wires can be availed in 1 mm to 16 mm size range. Design of these wires conforms to global norms. Long lasting surface finish, optimum durability, superb surface finish and high tensile strength are the key aspects of such wires. Coil weight of these wires ranges between 60 kg to 100 kg. These are basically used for producing auto cables, fasteners, wire nails, bolts, spoke, screw, hand crafted products, shoe nail accessories etc. These have high tensile and ductile strength. These half hard bright wires (HBB) have standard thickness and these have excellent corrosion resistance feature. Usually, their thickness ranges between 2 mm to 30 mm. Carbon content of such wires ranges between 0.08% to 25%. Manufacturing process of such wires include welding and cutting procedures. Tolerance of these wires is plus minus 10%. Matt finished surface of such wires is completely rust and wear proof. Superb surface finish, optimum durability, top notch quality and reasonable price are the key aspects of such wires. These wires have been checked on the basis of their working life, surface finish, raw material selection etc.
Application of HHB Wire:
Offered wires are used to produce brush, basket, fastener, weaving ripple pipe, hook and so on.
Specifications of HHB Wire:
Maximum coil weight is 100 kg
Carbon content up to 25%
Maximum thickness is 30 mm
Up to 16 mm size
Thickness: 1.00mm- 16mm
Material: Steel
FAQ:
Q: What is HHB Wire?
A: HHB wire stands for "Half Hard Bright Wire." It is a type of steel wire that is manufactured through a specific process to achieve high strength, durability, and abrasion resistance. It is commonly used in various applications where a strong and tough wire is required.
Q: What are the typical applications of HHB Wire?
A: Half Hard Bright Wire finds applications in a wide range of industries, including construction, automotive, agriculture, fencing, manufacturing of springs, wire ropes, pre-stressed concrete, and general engineering purposes. It is also used in concrete reinforcement to enhance the strength of structures.
Q: How is HHB Wire different from regular steel wire?
A: HHB Wire differs from regular steel wire in its manufacturing process and composition. It undergoes a process called "hard drawing" that imparts higher strength and toughness compared to regular steel wire. The carbon content in HHB wire is typically higher, which contributes to its increased strength.
Q: What are the advantages of using HHB Wire?
A: The main advantages of using Half Hard Bright Wire include:
High strength: HHB wire has superior strength compared to regular steel wire, making it suitable for demanding applications.
Durability: Due to its toughness and resistance to wear and tear, HHB wire is long-lasting and can withstand heavy loads and stress.
Versatility: It can be used in various applications across different industries, offering versatility and flexibility in design.
Reliable: HHB wire's consistent mechanical properties ensure reliability in its performance.
Cost-effective: Despite its high-quality characteristics, HHB wire is often cost-effective due to its wide range of applications and durability.
Q: What are the available sizes of HHB Wire?
A: This wire is available in various diameters, commonly ranging from 1.6mm to 12mm or even more, depending on the manufacturer and specific requirements of the application.
Q: Does HHB Wire require any special handling or storage?
A: Half Hard Bright Wire should be handled with care to avoid any damage that may affect its performance. It is recommended to store the wire in a dry and covered area to prevent exposure to moisture, which could lead to rusting.
Q: Can HHB Wire be used for welding purposes?
A: Yes, this wire can be used for welding purposes, but it is essential to ensure compatibility with the welding process and the specific application requirements. Some grades of HHB wire may be more suitable for welding applications than others.
Q: Is HHB Wire susceptible to rusting?
A: Half Hard Bright Wire, like other steel products, can be susceptible to rusting when exposed to moisture or corrosive environments. To prevent rusting, it is crucial to store the wire properly and consider applying protective coatings if needed.
Q: Where can I purchase HHB Wire?
A: This wire is available from various steel wire manufacturers and suppliers. You can find it at hardware stores, construction material suppliers, and industrial suppliers dealing with steel products.