Bailing Wire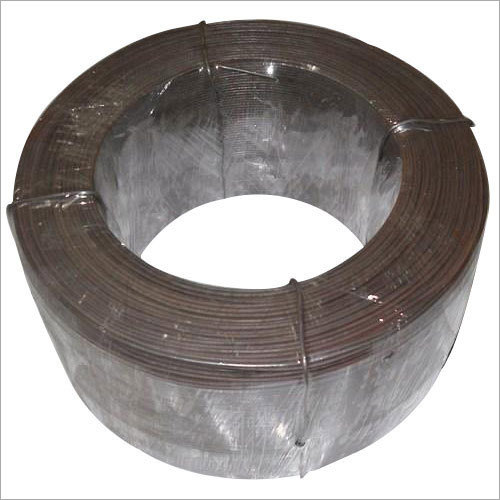 Bailing Wire
Price And Quantity
Kilograms/Kilograms

35.00 - 200.00 INR
Product Specifications
Product Description
Offered Baling Wire is extensively utilized in the agriculture industry. It is also apt for mending fences and assist in the manual binding of rectangular bales. This wire is used to band the paper, aluminum, textiles, corrugated cardboard, and other materials, utilized in the recycling industry. This can be also utilized in non-industrial/agricultural ways. The Baling Wire is the fix-anything sort of cable, which ensures versatility in various applications. Provided cable is mainly essential for a facility that makes use of horizontal as well as vertical balers and assist the machine to run run smoothly. This can withstand the rustiness and abrasiveness that occur due to bad impacts of weather.
Thickness of such free cutting steel wires ranges between 1mm to 3 mm. Elongation of such wires ranges between 10% to 25%. Tensile strength of such wires ranges between 350 Mpa to 550 Mpa. Galvanized surface of such wires is rust and wear proof. These wires can be accessed in different versions. Single loop based variant of such wire is made of galvanized or black annealed metal. Its production method involves melting of steel. This type of bailing wire needs to be tied manually. This specific version is used for vertical balers. It has optimum flexibility. Double loop variant is accessible in pre-cut length. This specific variant is perfect for works that need high expansion force. Application of such wire can be noticed in recycling plant. Black annealed version is softer when compared to its other counterparts. This specific variant is compatible with different types of bailing equipment and various types of materials that need to be baled. Black annealed version is offered with oil coated surface so that it can go through baler without any hindrance. Offered products are cost effective.
Special attributes of Bailing Wire:
Offered wires have maximum 550 Mpa tensile strength.
Maximum thickness is 3 mm.
Up to 25% elongation rate
Long lasting quality
Types of Bailing Wire:
These wires are accessible in different specifications. These can be availed in single loop, double loop, black annealed, boxed and high tensile based versions.
FAQ:
Q. What is bailing wire?
Ans: Bailing wire, also known as bale wire or baler twine, is a type of wire used to bind and secure materials, typically in agricultural or industrial settings. It is commonly employed to tie together bales of hay, straw, or other crops for storage or transportation.
Q. What is bailing wire made of?
Ans: Bailing wire is usually made from steel, which provides strength and durability. It is available in various gauges or thicknesses to suit different applications.
Q. What are the common uses of bailing wire?
Ans: Bailing wire has numerous applications, including:
Securing bales of hay, straw, or other crops on farms.
Binding and organizing materials in recycling centers and waste management facilities.
Temporary repairs for fences, equipment, and structures.
DIY projects and crafts.
Emergency fixes for various items.
Q. How is bailing wire different from regular wire?
Ans: Bailing wire is often softer and more malleable compared to regular wire. This allows it to be easily twisted and tied around materials without the need for tools. It is designed for temporary use and ease of handling.
Q. Can bailing wire be reused?
Ans: Yes, depending on its condition, bailing wire can be reused for certain applications. After cutting the wire from the previous use, it may still be suitable for less demanding tasks like bundling or securing lightweight items.
Q. Is bailing wire durable?
Ans: Bailing wire is reasonably durable for its intended use, which is typically short-term applications. It may eventually rust or lose its integrity if exposed to harsh environmental conditions, but for temporary binding and securing, it is effective.
Q. Are there different types of bailing wire?
Ans: Yes, there are different types of bailing wire based on the gauge (thickness) and coating. The most common types are black annealed bailing wire (uncoated), galvanized bailing wire (coated with zinc for improved corrosion resistance), and stainless steel bailing wire (highly corrosion-resistant).
Q. Can bailing wire be used for construction or long-term projects?
Ans: Bailing wire is not recommended for long-term construction or projects that require high strength and lasting durability. It is best suited for temporary applications, quick fixes, and light-duty tasks.
Q. Where can I buy bailing wire?
Ans: Bailing wire is available at hardware stores, agricultural supply centers, and online retailers. You can find it in spools or pre-cut lengths.